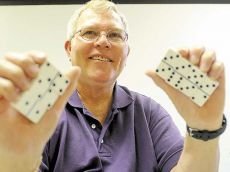 Howdy, fellow 42 player. I'm Jerry Whitney, 42 tournament organizer and 2009 Texas State 42 co-champion.


If you would like to learn more about playing in 42 tournaments, or if you want to expand your participation in 42 tournaments or host one in your area, contact me and I'll help you. Tell me a little about your 42 background, general location, and how I can help, and I will respond accordingly.

I'm available to discuss an open national 42 championship tourney, too. Looking forward to hearing from you.